GROWTH SCIENCE NUTRIENTS CASE STUDY
Growth Science at a Glance
Within the agricultural industry, there are a lot of products that flood the market to serve farms from seed to soil, in greenhouses, nurseries and the field. Within fertilizer alone there are many companies offering products known by their brand reputation, special ingredients, or novelty alone. As Growth Science came onto the scene in 2014, they aimed to provide liquid fertilizers for hydroponic and field scale farms at a fraction of the cost of their competitors. With their target demographic being cannabis and hemp cultivators, there was a certain level of discretion that their marketing had to portray, providing messaging that spoke to farmers without directly speaking about this often stigmatized plant. With these limitations in mind, they sought the assistance of someone with a marketing mindset to help steer them in a direction that could help them achieve market growth.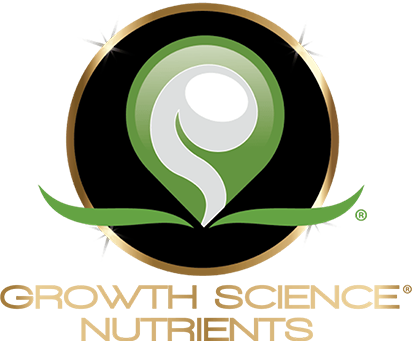 The Starting Line
Joining Growth Science in 2018, the company had already begun their expansion throughout California, Oregon, Washington, and Colorado markets, with fair traction with a decent number of hydroponic shops and a few farms of substantial size to keep the business humming. They'd gone through the three year growth period new businesses face and had made the business profitable. Their original conventional nutrient line included 5 products – a pair of two-part base nutrients to use throughout the plant's lifecycle, modeled after the widely accepted Lucas Formula, a veg booster for early stages of plant growth, a bloom booster for the floral developmental stage, and a silica product to help encourage strong plant cell growth. The product model was working, but their visuals were all over the board when it came to their collateral and web presence. Their product labels carried the biggest air of a professional look, but aside from that, loose leaf flyers, brochures and a simple Wix website were strung together with an inconsistent quality.
The company was beginning to prepare for the launch of their new product line, Growth Science Organics. Mimicking their existing product line structure, the new line would include a two-part fish-based formula, a kelp and plant ferment based veg and bloom booster, a rooting agent – ideal for nurseries and cloned plants, and a humic acid used for helping soil retain and distribute nutrients more effectively. With the new product launch on the horizon, they needed to move quickly to embrace a visual redirection. The founder had paintings lined up and labels prepared for the organic line, hoping to showcase a human element for shelves in retail locations. Upon our arrival, we provided feedback that these lacked the same caliber of what a commercial product should look like but it was too late in the game and we had to move forward with the labels as they were. This last piece would have to be revisited in the future but remained a piece we wouldn't forget.
Phase 1: Site Redesign
Our first goal together was to relaunch their site on a scalable platform like WordPress – something that could handle eCommerce and some advanced features that Wix would have been too limited for. As Growth Science Organics was ready for market, we made a point to highlight the product line and its organic certifications in the main site banner and gave a visual overhaul to the rest of the site with design elements of the organic line, including design elements that would later be used for print materials. We further incorporated shopping into the site, allowing guests to purchase the products in all sizes, setting up an intricate backend to allow for dropshipping from either Amazon for smaller sizes or the company's own distribution facility for larger sized orders. With a revamped site as a starting point in our marketing and design initiative, we were able to begin to make Growth Science look the part of a B2B and B2C focused product. Below is the last remaining screenshot of the Growth Science homepage banner which has since gone through changes implemented in our 2021 revamp described further on this page.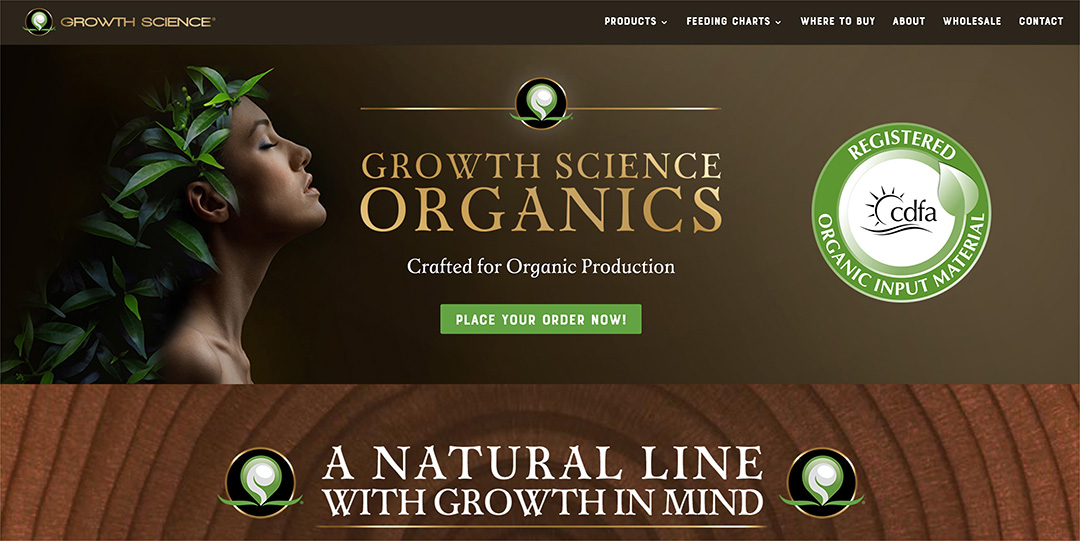 Growth Science Homepage Banner – 2018 – 2021
Phase 2: Sales Tools and Print Materials
One of the greatest assets of Growth Science during this growth period was their boots on the ground sales team. Equipped with an iPad and printed materials to connect with farmers and new stores, we soon realized that the biggest selling point of our products was showing how Growth Science stood up to competitors at a side-by-side cost comparison. Throughout this process, we took it upon ourselves to create a calculator that would break down the cost of our leading competitors against Growth Science's Conventional and Organic product lines based on client water usage, property size and number plants.
Sending these sales reps out into the field or to new store locations however with a slew of loose papers describing the line would not make the cut for establishing a company as a professional organization. We saw a vision for consolidating all of these pages into booklets designed to capture the message of each product line. The challenge we faced here was the nature of how closely cannabis was tied to the messaging. Due to this, we developed in-store brochures that were a bit more PG to place on counters for hydroponic shops and create the booklets to provide directly to farmers and distribution channels.
Providing the sales team with more visually appealing print materials to convey the company message, sales became easier to close and promoted further interest with new and potential customers. Below you will find our 2018 through 2020 version of the Growth Science Organics booklet and Growth Science Nutrient's Conventional line.
Growth Science Organics Booklet – 2018 – 2020
Growth Science Nutrients Conventional Booklet
Phase 3: Social Media and Reputation Enhancement
Navigating through the cannabis space on Instagram is a tricky situation. Many farms and farm adjacent brands regularly become shadow banned and shut down due to algorithmic filtering and an inability to determine whether a brand is trying to sell cannabis online or not based on their content. Our approach to improving the appearance of the brand on social media was to begin to incorporate branded and stylistic elements from the website and printed materials to create a cohesive experience both on and off line. Within the two years of maintaining their social media account, we were able to double their number of followers, increase engagement, and utilize private messaging as an inside sales tool to approach farms in a more friendly manner than cold calling or email marketing.
By engaging with their Instagram following on  posts as well as re-posting fan content that highlighted the use of Growth Science in their field, facility, or home-grow, we had Growth Science ambassador's beginning to pop up across the nation. During this time, Growth Science also expanded its sales team's presence to the East Coast, with the sales manager for the territory creating his own Instagram account as @growthscience_atlantic which allowed the company to tap in to a new market across New England and North Eastern Canada, building a fan base coast to coast.
Growth Science Instagram Posts (Click to Enlarge)
Phase 4: Trade Show Booth Design
Although Growth Science was beginning to gain traction and do well in the realm of it's audience, the company still tried to do things within a reasonable budget. With this in mind, we determined a way to create a modular trade show booth designed to embody an organic look and feel. As MJBizCon 2018 approached, we made a few sketched mock ups of how the trade show booth would look, comprised of wooden panels and plant displays to create a rustic and creative space to entertain guests at the tradeshow. Although the tradeshow was specifically geared toward cannabis, it was unfortunate that we couldn't bring in some plants from partner facilities to really showcase the products in action. Below you will find the tradeshow booth sketch and the final product.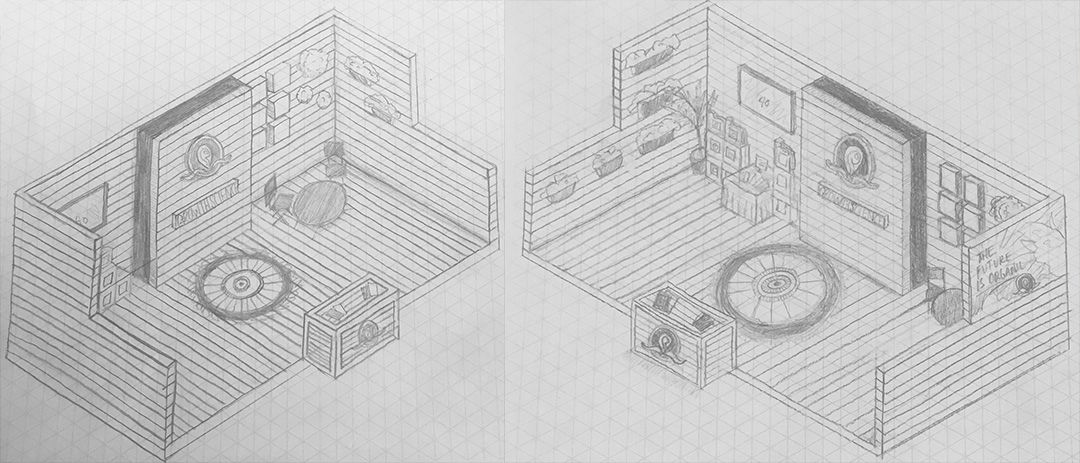 MJBizCon 2018 Tradeshow Booth
Phase 5: Expansion and Growth
The presence of Growth Science at the 2018 MJBizCon allowed for great networking opportunities. Connecting with major distributors and sharing the updated appearance of the brand allowed for the company's presence to finally be recognized on a grander scale. With a full year of vast expansion across the country, a more professional image, and some growing pangs that came with growing quickly, Growth Science was seeking partnerships that would help with dsitribution for direct-to-farm and retail growth. This next phase of growth brought on new relationships with exclusive distribution partnerships, preferred online partners, and some major deals with retail partners that were eager to work with this newly revamped brand. One major distribution partner had mentioned at one point that they had heard of Growth Science and had been watching their growth and were waiting for the company to achieve a level of market recognition before bringing them on. By the time Growth Science was finally at the table to make a deal, this distributor shared that with the way the company had improved their presence so vastly that they were happy to have them join their line of available products.
Growth Science Distributors and Major Retailers
2019 – 2020: A New Market Emerges
While the end of 2018 brought about the federal legalization of hemp in the US, the cannabis market began an evolution. The rest of the farming industry began to look at the new potential for this cash crop, causing a major growth in hemp cultivation across the country. The upside here was the growth in interest in how to properly cultivate this crop. The downside however was the emergence of poorly grown bulk plant, flooding the market with raw materials and extract materials, driving down the value for farmers that had previously been growing with a focus on quality. New farms lacked the experience of true cannabis knowledge and growing practices but instead began the move toward incorpoarating large scale farming techniques to field scale farmers. 
With this sudden influx of product on the market, the hemp wave settled down eventually allowing the true cream of the crop to show themselves. Organic farming purists both in the hemp and regular cannabis space were not easily swayed by the practices of nutrient companies, steering away from bottled products that followed any specific formula. Growth Science Organics had gained traction among farms and distributors, valuing its ease of use and ability to run through irrigation systems without clogging drippers. But Growth Science saw the dilemma organic farmers were facing in any resistance to bottled nutrients and adjusted their product line to accommodate this change in the market. 
Phase 6: Growth Science Organics Rebrand 
With a moment of calm and an opportunity to reassess the company's direction, with many businesses suffering from COVID-19, Growth Science took this opportunity to consolidate their Organic line from six products down to three. This moment allowed for a chance to strip away the artwork of the original labels and redefine a visual direction. Embracing the feelings of a simpler time, we created labels embodying organic textures, jewel tones, and vintage fonts, Growth Science Organics took on a new appearance that would be launched throughout 2021. Below you will find the original Growth Science Organics label designs and the  new and improved labels that would help define the look for the 2021 site and collateral redesigns.
Growth Science Organics Original Labels – 2018 – 2020
Growth Science Organics Label Redesigns 2021
Phase 7: Growth Science Organics Collateral Redesign
Taking our prexisting messaging for Growth Science Organics and applying a new lens to look at the consolidated line, we were able to revisit the booklet that had started us off on our print design initiative. Bringing the branding elements applied to the rebrand, we were able to choose beautiful field photography and rustic design elements to give the booklet a look that would set the standard for Growth Science Organics for 2021.
Growth Science Organics Booklet – 2021
Phase 8: Growth Science Site 2.0
Bringing Growth Science to a new precipice in an ever changing market, we were able to approach the company's web presence with a set of new eyes and new possibilities. The recent developments and progress of hemp entering public domain allowed Growth Science to use pictures of hemp on their website, really speaking to their audience in a more vivid way. Moving away from an industry in which most growers needed to speak in secrecy through the terms of growing "tomatoes", the brand could finally put their product on displace alongside its plant of choice. Through expansion with distribution partners, Growth Science was limited in regards to being able to do any online sales with any significant discounts, and feeling at odds with effecting the sales of retail stores, Growth Science stepped down from selling online, in the same way that one normally wouldn't be able to buy products directly from Oreos straight from Nabisco. This allowed us an opportunity to strip away eCommerce from the site in favor or a lighter site build that could highlight both product lines in a cleaner way.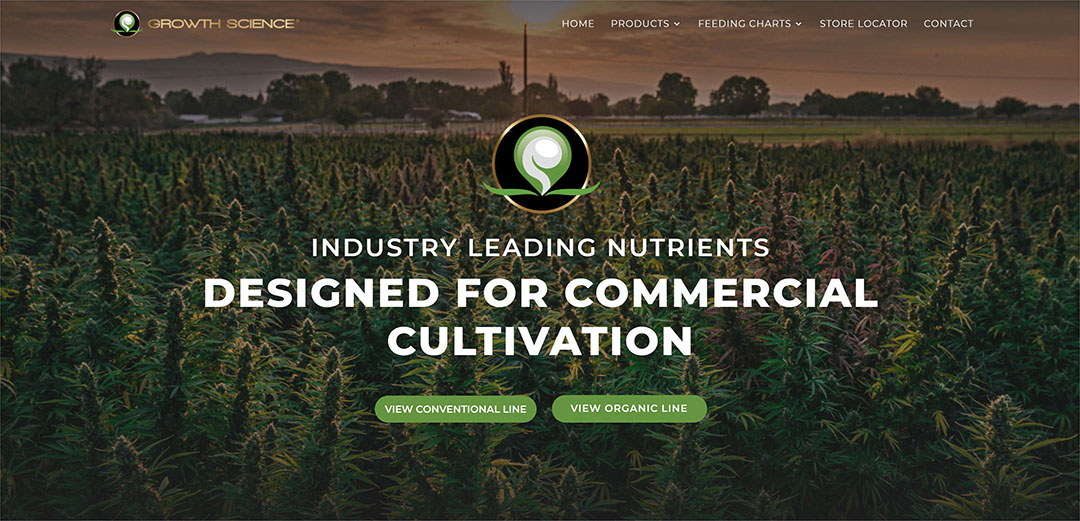 Growing Together
Having worked closely in and alongside the team at Growth Science, we have developed a long lasting relationship that we will aim to continue as the company scales into the future. Having seen highs and lows of the industry and overcoming these obstacles together, we have been fortunate to be a part of this company's story. Taking on major projects together or making minor changes, Growth Science has been a major part of our growth as a company and we would like to thank them for their contributions to our own vision.
If you've made it this far into this article, thank you for peeling through each piece of the work we've done for Growth Science. If anything stands out to you or you'd like to try and go through the marketing and design process with us, we'd love to speak with you! 
Many thanks to Growth Science and our audience.
JAKE KARECKI | Founder 
Conquered Heights Marketing Solutions
A WORLD OF OPPORTUNITY AWAITS © CONQUERED HEIGHTS MARKETING SOLUTIONS, LLC. All Rights Reserved.